If you live in a small place like I do, you probably face some daily challenges regarding your makeup itens: one: accumulating things sucks and two: keeping things organized is a real challenge itself.
I tried to solve these issues by using several strategies. I used to keep my things in small cases, but as I have a bunch of lipsticks I always had to carry two cases. It was a real mess, with things from one case being mixed in the other one. I tried a big organizing box for all what I have, but it became a big inconvenient encumbrance inside my closet. Then I found these little boxes in a japanese store (which I love) and bought three of them. One I use to keep my face cosmetics, like a face foundation, bb creams, blush, corrective fluid, etc. The other one I used to keep my eyeshadow palettes and mascaras. And finally the last one keeps my lipsticks collection organized. This is a very convenient way to organize my makeup, because I grab what I want when I need to use and put it back in the shelf very practical.
I also use a little basket you can see in the picture above with everyday itens, such as deodorants, hydrating cream, handkerchiefs, makeup remover, etc.
The best part of this resolution is that the little boxes have these handles, they´re small and practical, I can sectorize everything and feel no more annoyed by looking for something specific inside a biiiiiig case. I simply grab the face box, use my foundation, my blush and etc… then I put it back in the shelf. I grab the eye-box, choose a palette (mainly the most basic and natural one), and put it back and finally I choose the lipstick of the day. Nothing messed up inside a big necessaire.
The best part is that I do not buy anything else, since I know the boxes are full, haha. They really worked in my space and my routine. You can find something that works for you, based on what you use most, the space you have available and your daily routine.
Here are some ideas from Etsy!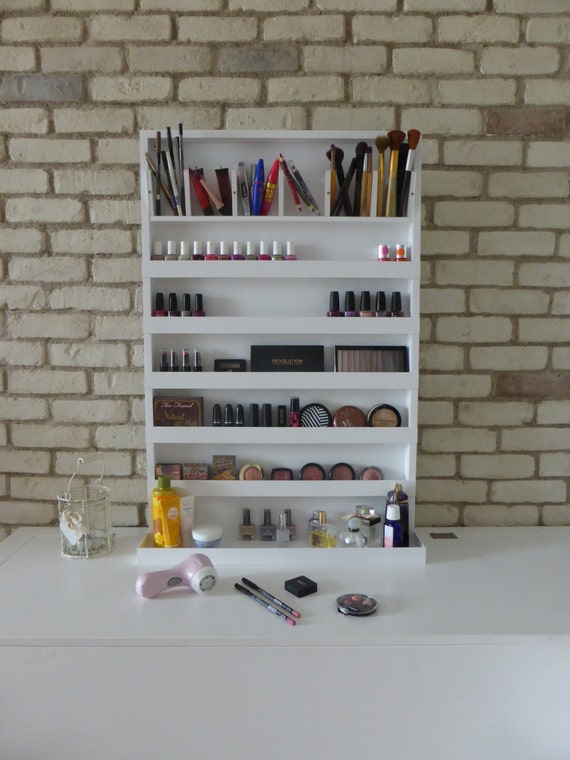 Let your makeup visible in a great white rack like this one.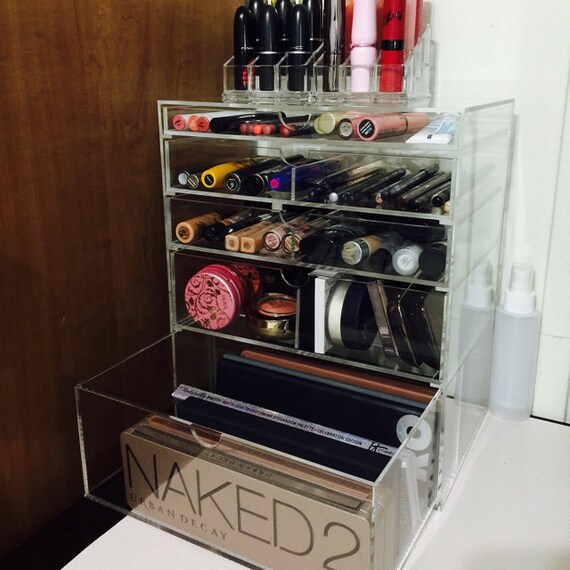 The acrylic organizer cube is still the most simple way to organize your makeup with you are not makeup addicted like me and have limited supply.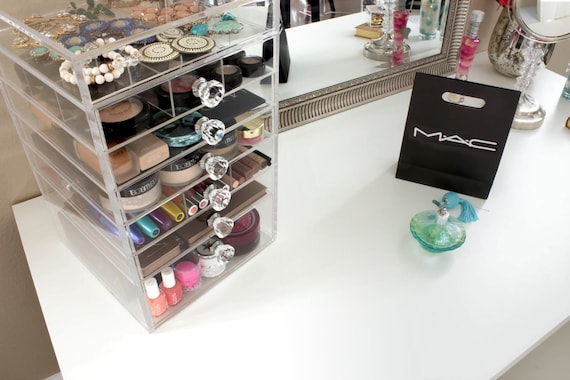 Here´s another beautiful and sofisticated option.
You can also use a shoe box, wrapping it with some adesive paper you like and you can separate itens using cardboard cards.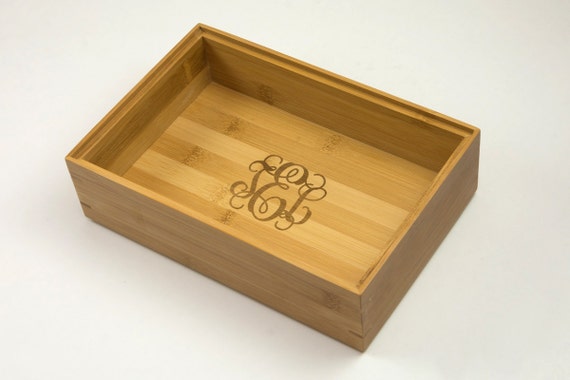 You can use this drawer storage (beautiful, with monograms) – made from wood (it could be made from a bunch of other materials, even reusing something you have at home).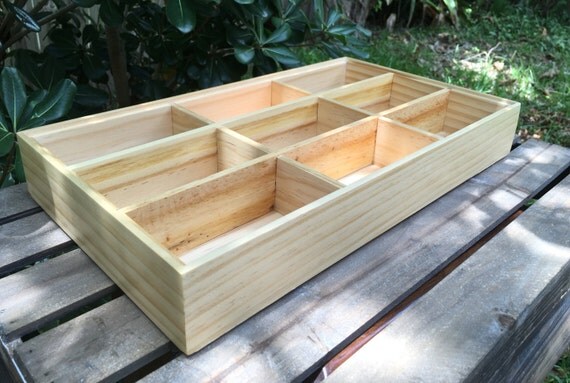 Another option, buy two or three of it and keep them safe in your drawer.
So please, share with us in the comments section how have you been dealing with that! 🙂